Youth Groups
Youth Groups
TASTY (Teenage Association of Sharon Temple Youth) is a youth group for teens in grades 9-12 at Temple Sinai. We plan fun activities such as ski trips, bowling, Six Flags, and more. We also participate in many social action events such as the Walk For Hunger in May. Jr. TASTY is open to students in grades 6-8, and also plans fun trips throughout the year.

You do not need to be from Sharon or a member of Temple Sinai to join. TASTY is affiliated with NFTY (North American Federation of Temple Youth), the youth movement of the Union for Reform Judaism. TASTY participates in many of NFTY's regional dances and weekend events.
For more information on TASTY or Jr TASTY, contact Jon Nelson or Join our group on FaceBook.
---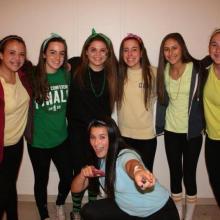 Tue, May 30 2023
10 Sivan 5783
Tue, May 30 2023 10 Sivan 5783