Our Clergy & Staff
Our Clergy & Staff
---
Rabbi Joseph B. Meszler
Rabbi Joseph Meszler has been the spiritual leader of Temple Sinai of Sharon since 2005. He is an educator, a passionate Zionist, and a human rights activist. His mission, as it says in Isaiah 54:2, is to "widen the tent…and deepen the pegs," that is, to help the Jewish community grow, thrive and deepen its connections to God, Torah, and Israel. Rabbi Meszler brings this mission to life through his active involvement in all parts of synagogue life: from introducing the synagogue to toddlers & pre-school aged children, to preparing religious school students for B'nai Mitzvah and Confirmation, and leading engaging discussions and adult studies for the community at large.

Rabbi Meszler was a Brickner Fellow through the Religious Action Center of Reform Judaism and regularly participates in the RAC's lobbying efforts. He is a member and has served as organizer of the Sharon Interfaith Clergy Association, belongs to the Hevraya of the Institute for Jewish Spirituality, and served as a Global Justice Fellow with American Jewish World Service in 2017-18. He has led many trips to Israel. He is also deeply involved in reducing hunger among Massachusetts children, part of the Breakfast After the Bell and the FeedKidsMA campaigns.

Rabbi Meszler has written books on various topics and is included in several anthologies, some including:

The Honey Bee and the Apple Tree: A Rosh Hashanah Story (Prospective Press, 2021)
Facing Illness, Finding God: How Judaism Can Help You and Caregivers Cope When Body or Spirit Fails (Jewish Lights Publishing, 2010)

He is married to Rabbi Julie Zupan.
Email: jmeszler@temple-sinai.com
Phone: 781-784-6081
---
Cantor Rebecca Khitrik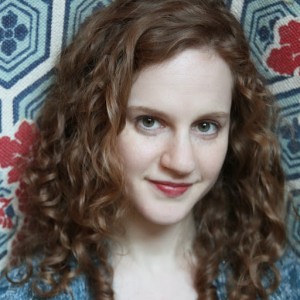 Cantor Becky Khitrik joined Temple Sinai in 2015 as our assistant cantor and choral director and became our cantor in 2019.
Originally from Bethesda, MD, Becky holds a bachelor of the arts degree in music and religious studies from Macalester College, a certificate of study from the Zoltán Kodály Institute in Hungary, a master's degree of the arts in religion from the Yale Institute of Sacred Music, and a master's degree in Jewish Studies from Hebrew College, where she was ordained as a cantor in 2014.
Cantor Becky has created and led special klezmer-inspired Shabbat services for a number of temples, and enjoys an active performance career as a klezmer clarinetist. She has performed internationally and has received acclaim for her technical mastery, warm tone, and unique use of vibrato. She is a member of the acclaimed Boston-based group "Klezwoods," which performed at the Kennedy Center in 2012, a founding member of "The Lithuanian Empire" (Canada-USA), and has also performed with the Zamir Chorale of Boston and many other established musicians.
Cantor Becky, her husband Alex and son Max live in Watertown, MA.
Email: bkhitrik@temple-sinai.com
Phone: 781-784-6081
---
Cantor Emeritus Jeff Klepper
Jeff Klepper served as Temple Sinai's cantor between 2003-2019. Raised in New York City, he began playing the guitar at an early age and was strongly influenced by the folk music of Pete Seeger. Prior to his bar mitzvah, Jeff studied with the legendary synagogue composer Abraham Wolf Binder, gaining an appreciation for music of the synagogue. In the early 1970s, while at Clark University, he teamed with future rabbi Dan Freelander and formed the popular Jewish singing group Kol B'seder. Jeff's compositions, many written with Dan, such as Modeh Ani, and Lo Alecha, have become synagogue standards. Their setting of Shalom Rav, composed in 1974, is the defining Jewish melody of a new style of worship, bridging varied traditions and connecting multiple generations.
Jeff graduated from Hebrew Union College-Jewish Institute of Religion in 1980 and was awarded an Honorary Doctor of Music from HUC in 2005. He also holds a Master of Arts in Music from Northeastern Illinois University.
Jeff is a member of the faculty of Hebrew College in Newton, MA. He recently served as a music editor for Mishkan T'filah, the new Reform movement siddur. Jeff and his family live in West Roxbury.
Email: jklepper@temple-sinai.com
---
Executive Director: Gershon Levine

Gershon was born and raised in Brooklyn, New York. Throughout his teen years and early adulthood, Gershon was a student activist in the Soviet Jewry movement. After graduating college, he made Aliyah to Israel and served in the Israel Defense Force as an infantryman. While living in Jerusalem, Gershon met his future wife Rabbi Andrea Gouze, and they were married in the Old City, under the arch of Hurvah Synagogue. After they returned to the US, Gershon attended Brandeis University, where he received his MA from the Hornstein Program in Jewish Communal Service. He has held various positions in the Jewish community including: the Family Educator of the Solomon Schechter School of Greater Boston; Community Relations Council Director for the Jewish Federation of Rhode Island; Program Director for the Striar JCC in Stoughton; the Assistant Director for the New England Regional Anti Defamation League and was the Executive Director of Temple Emanu-El in Providence, RI and Tifereth Israel Congregation in New Bedford.
Gershon and Andrea have four children, Eitan, Daniella, Nili and Aurora.
Gershon is very happy to be joining the staff at Temple Sinai. Please make sure to stop by his office for a visit and a schmooze, the door is always open!
Email: glevine@temple-sinai.com
Phone: 781-784-6081 x106
---
Director of Education: Beth Fine-Nelson
Beth Fine-Nelson joined Temple Sinai as Director of Education in 2014. Beth comes to us with over twenty years of leadership and administration in various Jewish organizations, including JCC's, camps, temples and schools.
Beth grew up in Newport, RI and was an active participant in Young Judaea and attended Camp Tel Yehudah in the 80's. Beth also participated in the High School in Israel program in 1984. She is an advocate for both camp and Israel trips.
Beth holds a Masters in Jewish Education from Siegel College, and she brings her vast experience from a range of settings along with creative ideas and considerable attention to detail. Beth now lives in Sharon with and has three children, twin sons Ben and Evan and daughter Emily who attends LSU. Beth's husband, Jon Nelson, is Temple Sinai's Youth Group Advisor.
Email: bnelson@temple-sinai.com
Phone: 781-784-6081 x200
---
Youth Group Advisor: Jon Nelson
Jon Nelson comfortably wears many hats, as a Youth Director, Cantorial Soloist, Rabbi, Educator, Recording Artist and Performer.
The founder of the influential, Jewish Rock Band, Yom Hadash, Jon had the privilege of spreading his welcoming and inclusive brand of Jewish music across the country for close to two decades. Jon has also served as the Youth Educator/Director at several large Massachusetts synagogues.
A proud native of New Bedford, MA, Jon is a graduate of UMASS Amherst (Undergraduate Degree), Bridgewater State College (K-6 Teacher Certification), Cambridge College (Masters Degree in Education) and the Jewish Spiritual Leaders Institute (Rabbinic Ordination).
Jon lives in Sharon with his wife Beth, their three kids, Ben, Evan and Emily and "Tzimmes" the dog. In addition to officiating at life cycle events and performing with his band locally and nationally, Jon is also the Musical Director at Temple Emanu-El in Marblehead, MA, where he sings at worship services and B'nai Mitzvot.
Email: jonnelsonmusic@gmail.com
Phone: 617-461-4559
Tue, May 30 2023
10 Sivan 5783
Tue, May 30 2023 10 Sivan 5783